2 Rear Tailgate Trunk Liftgate Lift Support Struts Arms For 99-04 Grand Cherokee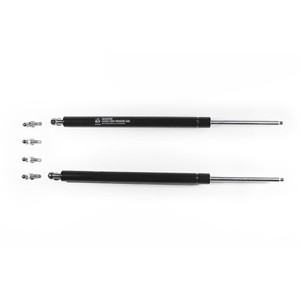 ---
Visit Our Shop Add to Favourite Terms & Conditions

2 Rear Tailgate Trunk Liftgate Lift Support Struts Arms For 99-04 Grand Cherokee

*IN STOCK. SHIPS IN 1-2 BUSINESS DAYS      *30 DAYS RETURNS

*FREE US DELIVERY     *WITHIN CONTINENTAL UNITEDSTATES

DESCRIPTION

Fitment: 1999-2004 Jeep Grand Cherokee Laredo Sport Utility 4-Door 1999-2004 Jeep Grand Cherokee Limited Sport Utility 4-Door 2002-2004 Jeep Grand Cherokee Overland Sport Utility 4-Door 2004 Jeep Grand Cherokee SE Sport Utility 4-Door 2004 Jeep Grand Cherokee Special Edition Sport Utility 4-Door 2002 Jeep Grand Cherokee Sport Sport Utility 4-Door Item-offered: 1pc Rear Left Lift Support and 1pc Rear Right Lift Support Position Rear Left & Rear Right Parameters Extended length:18.39" Compressed Length:11.5" Weigh:1.63 lbs(double lift supports) Material Steel Warranty 2 Year's Warranty Color Black Installation Instructions Always replace both lift supports to ensure top performance and to prevent twisting caused by uneven loading. 1. Turn off ignition. If old lift support has a window demister electrical connection, carefully disconnect the fittings. 2. Before removing old lift supports, examine any fittings supplied to determine which components must be re-used. 3. Have someone hold the hatch, bonnet, boot or rear window open while replacing the lift supports. 4. Loosen the fasteners, remove one end while being prepared to fight the pressure in the strut, move the end so it's away from the bodywork, remove the other end, install that end of the new one, wrestle the other end into place and tighten up. 5. Make sure all connectors and hardware are in place, tight and secure. Reconnect electrical terminals at both ends of the gas-charged lift support, if applicable to your car. Retain plastic end caps, if applicable to your car. WARNING: Use safety stands whenever a procedure requires you to be under the vehicle. Features & Advantages

* Our Lift support have the industry's highest quality in terms of long-lasting performance, smooth operation, functional safety, and ease of installation. * Our Liftsupport have 2 Year's Warranty. * We feature the latest technology and most innovative features. Each gas charged lift support is tested in four different positions during compression and extension to measure speed and force. Each lift is then subjected to two overload tests to assure structural integrity and safety. * Enhances performance through improved oil and gas Pressure sealing. * Manufactured with bearing quality precision to promote longer operating life.  

SHIPPING

ABOUT ME

Your satisfaction is our top priority.We stand behind all products that we sell.The only thing we want to give to our customer is the best buying experience.So we will try our best to do everything well. In order to get a prompt response and communication, we recommend you contact us by Message.All emails will be replied within 1 day. However, we did receive some customers complain that they have not received our emails. Mostly because our emails get into the SPAM/JUNK mail box. So please check those mail folders also or use the "contact seller" on your auction page to contact us directly. Let's work together to make a great community, full of great bargains and fun for all!Thank you very much for your business!

PAYMENT

We accept PayPal payment, major credit card payment through PayPal. Buyer must use Checkout to pay for the order. Payment must be received within 7 days (from the auction ended date).

RETURN

We accept return for any reason within 60 days after buyer receives the item(s). In addition, we will cover all the shipping costs and no restocking fee for providing buyer's better shopping experience.We are not responsible for any return or exchange after the warranty period has expired. the return items must be new and in original package. Buyer should ensure that the products are not used . We will ship item out in one business day. Anyway, if you have any troubles,please feel free to contact us.We're willing to do anything resonable to help you out. Thanks!